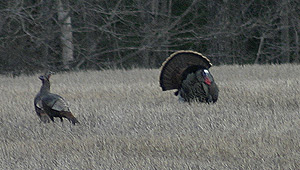 In the Hunting Corner, brought to you by Canadian Tire, we celebrate the opening of the spring wild turkey hunt in Ontario by talking to Dave Reid. Dave is a retired Ministry of Natural Resources Biologist who was one of the people responsible for bringing wild turkeys back to Ontario.
Greg Farrant, Manager of Government Affairs & Policy with the Ontario Federation of Anglers and Hunters (OFAH), joins us this week to discuss the long gun registry. Greg brings us up to speed on where we are now on the scrapping of the long gun registry.
In the Conservation Corner, brought to you by Valvoline, host Tom Otto talk to Alesha Caldwell, Conservation Outreach Programs Co-ordinator with the OFAH. Alesha tells us about Women's Outdoor Weekend (WOW) coming up in September and the possibility of more weekends occurring.
Also joining the Conservation Corner this week is Rachel Gagnon, Co-ordinator with Ontario Invasive Plant Council. Rachel joins us to talk about invasive species, namely invasive plants, and your garden.
This week in the Fishing Corner, brought to you by Alumacraft, we are joined by Doug Bunker who talks to us about the 31st Annual Orilla Perch Festival. Kicking off this weekend, this large annual festival will attract thousands of anglers over the twenty two day length.
NOTE: Due to a scheduling conflict this weekend's show will not be airing on AM9870 CFPL (London and area).
Those unable to catch the show may download the podcast on Monday.

Podcast: Play in new window | Download (23.9MB)
Subscribe: Apple Podcasts | Android | RSS