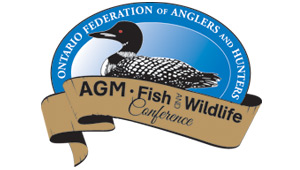 It was another fun filled, informative OFAH Annual General Meeting and Conference and we have highlights from this year's event.
David O'Toole Deputy Minister of Natural Resources delivers on important issues facing our government such as spring bear hunting and the Draft Fisheries Plan.
Sue Milburn-Hopwood the Director General of the Canadian Wildlife Service, brings us up to date on the modernization of the Migratory Bird Regulations, and some exciting news about family permits, and retriever training to name a few.
Jack Hughes the Manager of Population and Conservation for the Canadian Wildlife Service, talks about past milestones and how changes in the waterfowl regulations will be affected in the future.
Dr. David Bird. Emeritus Professor of Wildlife Biology, Department of Natural Resource Sciences, and McGill University speaks about how unmanned vehicle systems are changing the landscape in biology research.
Asian Carp pose a threat that exceeds its predecessors and you need not look further than the United States to see the damage caused in their wake. The OFAH 86th annual Gneral Meeting and Wildlife Conference hosted a panel of heavy hitters on Asian Carps and they are John Goss, Asian Carp Director, The White House Council on environmental Quality, David Ullrich, Executive Director, Great Lakes St Lawrence Cities Initiative, David Burden Regional Director General Central & Arctic Region Fisheries and Oceans Canada and Eric Boysen Director Biodiversity Branch Ontario Ministry of Natural Resources.
Podcast: Play in new window | Download (27.2MB)
Subscribe: Apple Podcasts | Android | RSS