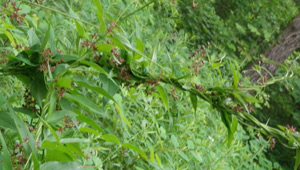 Angelo Lombardo, the new Executive Director of the Ontario Federation of Anglers and Hunters (OFAH), is interviewed and talks about his reason for taking the job.
In this week's Fishing Corner, brought to you by Alumacraft, we have avid fisher and outdoors writer Wil Wegman. Wil joins us to talk about his article 'Go Green for the 2012 Lake Simcoe Fishing Season'.
In the Conservation Corner, brought to you by Valvoline, Rachel Gagnon of the Ontario Invasive Plant Council joins us to talk about invasive plant life and gardens.
We get a chance to talk with Lois Deacon, Director of the Enforcement Branch with the Ministry of Natural Resources. We learn something about the Conservation Officers in the province of Ontario.
Listener Karl Foerter of Hanmer tells us about an amazing Northern Pike out of a lake in Sudbury.
Have a story you want to share? That great "fish story"? That unbelievable hunting adventure? If you'd like to share it with our listening audience, send your e-mail to: listeners@ahradio.ca
* Strangling Dog Vine – photo by Andrea Hicks, OFAH
Podcast: Play in new window | Download (23.9MB)
Subscribe: Apple Podcasts | Android | RSS