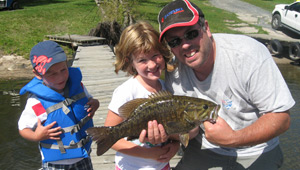 This week we remind listeners about the importance of safe boating. Ian Gilson, Canadian Safe Boating Council, and Sargeant Karen Herrington, Marine Programs Coordinator with the Ontario Provincial Police (OPP), joins us to talk about safe thinking on the water.
In the Conservation Corner, brought to you by Valvoline, Emily Funnell, Management Biologist with the Ontario Ministry of Natural Resources (MNR), joins us to talk about the Smallmouth Bass in Ontario report.
Ontario Family Fishing Week runs July 7-15, 2012 with countless events occurring around the province. Michelle Round, event organizer for Women's Day on the Bay, joins host Tom Otto in the Fishing Corner, brought to you by Alumacraft, to talk about her upcoming event.
Garry Fisher, President of the 1000 Islands Big Bass Challenge, joins us to talk about this event which will also take place during the Ontario Family Fishing Week.
Wil Wegman, Conservation Director with Aurora Bassmasters, talks with Tom about what boaters need to do to help prevent the spread of unwanted invasive species in our lake and rivers.
In the Hunting Corner, brought to you by Canadian Tire, we remind hunters about getting their applications in for the anterless deer draw.
Podcast: Play in new window | Download (23.9MB)
Subscribe: Apple Podcasts | Android | RSS